Listen to retirement tips on the radio!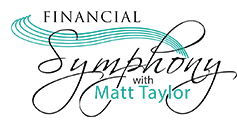 Tune in to Financial Symphony on WHP 580, Sundays from noon to 1 p.m.
Financial Symphony Radio Show
Every week, the Financial Symphony is heard on radio stations from coast to coast. The program is hosted by Mark Lloyd, but for part of the show, Mark and his team interview their Local Experienced Advisor in your city, so that you have the opportunity to hear from the financial professionals in your own community.
Matthew Taylor is the Financial Symphony's Local Trusted Advisor in the Central Pennsylvania area and can be heard weekly on 580AM WHP from noon to 1 p.m. Sundays.
The Financial Symphony aims to simplify the complex financial world for its listeners. The show is now heard on over 90 radio stations, and Mark Lloyd often appears as an expert guest of CNBC and Fox Business Network and is often quoted in publications such as The Wall Street Journal.
By contacting us, you may speak with an insurance-licensed agent and be offered insurance and/or investment products for sale.
"Matt Taylor brings a great combination of intellect and personality to the financial world, which is why we love having him as part of our network. He's a Certified Financial PlannerTM and a Certified Senior Advisor. At the same time, his laid-back personality makes our listeners feel comfortable. We're very proud to have him as part of our team."
- Mark Lloyd
Listen to This Week's Episode
Ready to Take The Next Step?
For more information about any of the products and services listed here, schedule a meeting today or register to attend a seminar.